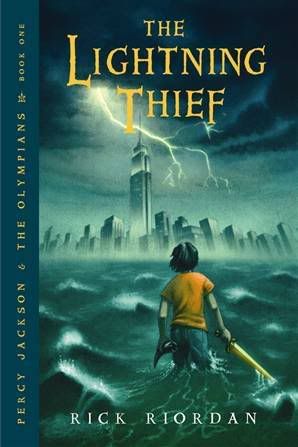 Published by: Miramax Books (2005)
Length: 375 pages
My Son's rating of Book: 5/5


Length of Audio: 10 hours, 12 Minutes
Narrator of Audio: Jesse Bernstein
My Rating of Audio : 2/5



Listening to the audio version of this book detracted from any enjoyment I may have gotten out of it. To be fair, the narrator is probably appealing to younger listeners, who are, after all the target audience. In fact, the reason I ended up continuing to listen is because my 6-year-old daughter really got into it and would make a lot of comments and ask a lot of questions about the story. My son, who
read
the book this year, also loved it, so I decided to do an interview with him:
Mom: What made you want to read this book?
J: The title sounds cool and it has funny chapter titles like "I Become Supreme Lord of the Bathroom." Also, I had heard people say it was a good book.
Mom: Can you give us a brief summary of the book?
J: Percy Jackson is a kid who has dyslexia and ADD who realizes he is a demi-god and goes on a quest with fellow demi-god Annabeth and satyr friend Grover. They go to recover Zeus' stolen thunderbolt which Percy's father, Poseidon is accused of stealing.
Mom: Who is your favorite character and why?
J: I like Percy the best because he is cool and he has a sword disguised as a ballpoint pen. He is also brave and has good instincts in battle. He also leads the quest and gets the group out of a bunch of tight spots and traps.
Mom: What was your favorite part?
J: My favorite part was when he was on the Gateway Arch with Echidna and the Chimera. It has some action and it has fire which always makes stuff cooler.
Mom: Did you feel like you learned more about Greek mythology?
J: Yes, because I didn't know anything about the Titans.
Mom: Would you change anything about the book or story?
J: I think this is a very good story that is very interesting and does not really need to be changed much, but I think the author could have made more parts of it more in depth and funny.
Mom: Who would you recommend this book to?
J: I would recommend this book to anyone who likes funny stories, adventure stories, or stories with a lot of action.
Mom: You've read three books in this series. Which one is your favorite?
J: The first book is my favorite because it opens up the story and it introduces the main characters.