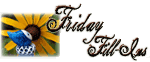 1.
Dodge ball
is so exciting!
2. Strawberry fields
make me think of the book

Snow Falling on Cedars
. (If that's the right one I'm thinking of???)
3.
The food I'm reading about in

Like Water For Chocolat

e
sounds like it would taste delicious!
(Except for the ox-tail stew)
4. Why does
checking things off a list
make me feel so good?!
5.
Stonehenge
is something I've always wanted to see.
6. It's sad when
I can't think of anything that's sad right now
,
and I know there's a lot of sad things to think of.
7. And as for the weekend, tonight I'm looking forward to
not having any plans
, tomorrow my plans include
working on the house
and Sunday, I want to
go to church and have my family over for Easter!

Last week my weekend included redoing our pantry, and here are before and after pictures. I'm so happy about it--maybe that's why I couldn't think of anything sad!