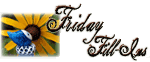 1. Contact may cause
illness
.
2. The parties hereto do mutually agree
to cease all tomfoolery (My kids hate it when I use this word, so of course I say it often)
.
3. Disney parks
are great places to read while you're waiting in line
. (I read half of
Stardust
at Disneyland the other day.)
4.
A nap
sounds really good right about now!
5. I positively
hate being the center of attention
.
6.
Steve Carell
always makes me smile :-)
7. And as for the weekend, tonight I'm looking forward to
redoing our pantry and preparing to paint the kitchen
, tomorrow my plans include
painting the kitchen
and Sunday, I want to
be done with the kitchen
!
Click on the flower button to play along!