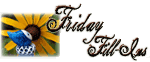 1. Ahhhh, it's so nice
to go to bed at night
.
2. One of my favorite things on my desk or bureau is
the computer?
3. Japanese Cherry Blossom
is a scent I would probably like in a body wash.
4.
The couch
is my favorite place to sit and read.
(Although, if I had a nice backyard and some outdoor furniture, that's where I would want to read.)
5.
Ben and Jerry's "Dave Matthews Band"
(Raspberry and Sweet Cream Ice-Cream with brownie chunks)
and
"Banana Split" flavors
are delicious!
6. I love to watch
great dialogue
in movies.
7. And as for the weekend, tonight I'm looking forward to
being at Disneyland
, tomorrow my plans include
a huge Dodge Ball game
and Sunday, I want to
go to church and spend time with my family.


Here's the link if you want to join in.